Why BUY A home in Big Bass Lake In The Poconos ?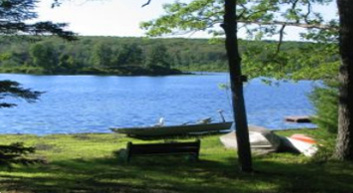 Why Buy a Real Estate In Big Bass Lake in the Poconos?
While Big Bass Lake is a little further (1-12 miles) from the center of the Poconos than other communities, the original developers knew they would have to go big on the community amenities. So… they did. Big Bass Lake has the complete package. Ski hill, indoor pool, fitness center, outdoor pool….The community is close enough to Scranton PA that homeowners can drive 1/2 hour and enjoy the restaurants, museums and city life and be back home quickly.
Owners can also have the option of driving the 1/2 hour to the center attractions of the Poconos Mountains tourism area. Casino, restaurants, outlet shopping, big box stores, multiple grocery stores, big skiing, water parks are all available.
> 2 Large Lakes – Great Fishing
> Tennis courts
> 3 Beaches
> Indoor and out door pools
> Fitness Center
> Ski in the Community on a Small Private Snowy hill
> One way in and one way out and Gated.
> Has the most "Vacation / Retirement Like" feeling of any community in the Poconos.
> Lots are wooded and larger than in most other Pocono communities
> Short Term Rentals are allowed
> Well managed professionally
> Central location – 15-25 minutes to: Jack Frost Skiing, Camelback Skiing. Camelbeach summer waterpark, The Pocono Raceway, Mt Airy Casino, 50 restaurants. Canoeing, kayaking, paddle boating and fishing in the community.
Big Bass Lake is on the Quiet side of the Poconos.
> USA Realty the official Agency of Poconos Real Estate – has extensive experience in helping families like yours buy a home in Big Bass Lake. Contact us on this form or call 570-517-2428
Here is a link to the Big Bass Lake Property owner's association where you can find more information on the community amenities.